Youth Meetings conducted at
Tuesdays and Saturdays in
Chennai Church of Christ and in the remote villages .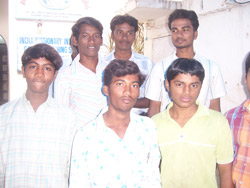 Psalm 25:7
Remember not the sins of my youth, nor my transgressions: according to thy mercy remember thou me for thy goodness' sake, O LORD.

Psalm 71:5
For thou art my hope, O Lord GOD: thou art my trust from my youth.

Psalm 71:17
O God, thou hast taught me from my youth: and hitherto have I declared thy wondrous works.

Psalm 127:4
As arrows are in the hand of a mighty man; so are children of the youth.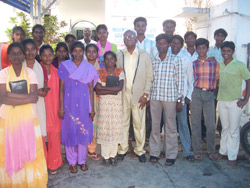 Psalm 144:12
That our sons may be as plants grown up in their youth; that our daughters may be as corner stones, polished after the similitude of a palace:
Proverbs 2:17
Which forsaketh the guide of her youth, and forgetteth the covenant of her God.
Proverbs 5:18
Let thy fountain be blessed: and rejoice with the wife of thy youth.

Proverbs 7:7
And beheld among the simple ones, I discerned among the youths, a young man void of understanding,

Ecclesiastes 11:9
Rejoice, O young man, in thy youth; and let thy heart cheer thee in the days of thy youth, and walk in the ways of thine heart, and in the sight of thine eyes: but know thou, that for all these things God will bring thee into judgment.

Ecclesiastes 11:10
Therefore remove sorrow from thy heart, and put away evil from thy flesh: for childhood and youth are vanity.

Ecclesiastes 12:1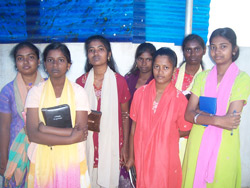 Remember now thy Creator in the days of thy youth, while the evil days come not, nor the years draw nigh, when thou shalt say, I have no pleasure in them;

Lamentations 3: 26,27
26It is good that a man should both hope and quietly wait for the salvation of the LORD.
27It is good for a man that he bear the yoke in his youth.

1 Timothy 4:12
Let no man despise thy youth; but be thou an example of the believers, in word, in conversation, in charity, in spirit, in faith, in purity.

2 Timothy 2:22
22Flee also youthful lusts: but follow righteousness, faith, charity, peace, with them that call on the Lord out of a pure heart.

To join in the meetings please write indiacalls@gmail.com

Or

contact
Chennai Church of Christ ,
14/1 Police Manickam street ,
Ayanavaram , Chennai 600023 India

Telephone : 26442604 mobile 9940058907