1 Corinthians 4 :1,2
1 Let a man so account of us, as of the ministers of Christ, and stewards of the mysteries of God.
2 Moreover it is required in stewards, that a man be found faithful.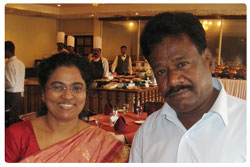 Brother Dhayalan and Sister Janet Dhayalan was a First Missionary family working for the Lords Kingdom in India in Chennai tamil NAdu on the follow up work of the Brothers G.D. Yesudian India, Brother J.A .Johnson USA ,Brother J.C .Bailey Canada, Brother Ray Brinley USA
Brother Dhayalan and Sister Janet Dhayalan was Trained by Brother G.D.Yesudian ,Brother J.C.Bailey , Brother Ray Brinkly. The Amazing Grace of God Blessed the Service of Brother Dhayalan and Sister Janet to reach millions of people in INDIA to know Christ is the Saviour of the World and their service extend to Baptize many thousands of people according the plan of salvation ,
My name is Jasuran Roy Knight .
I serve as a minister of Christ in the Assemblies of Christ and I am a missionary working in different parts in India with different languages and caste and creed to bring all of them in the Eternal Light of God , Jesus Christ Is way , Truth and Life .
I born in to this world in great land of Idol worship country of India on 28/10/ 1979 in a Christian Missionary family to R.Dhayalan and Janet Dhayalan Elder in the Assembly Chennai Church of Christ ,my parents both were baptized by Brother J.C.Bailey and trained by Him and R.Dhayalan and Janet Dhayalan worked for the Lord's Church and encouraged many preachers in villages towards the Gospel evangelism and Congregation development .
During my Child I was growing in the situation of Gospel work is important and it was blessing to me that I have learned from my child to serve the Lord . When I was 13 years old I use to visit hospitals in cities ,slum areas , and also I use my pocket money for helping some people who ask me help after my school hours, During this time I was learned to preach and help the people to know the true Love of our Lord Jesus Christ. I was baptized in the year 1995 and finished my school and Institute studies in 1998 during this time I was trained by the elders of the Church in Bible and evangelism.
But I was thinking to be a Doctor while I was studying Science studies I was unsatisfied and my heart was longing to know what is the God's will .. I understood God have a plan in my life that I have to be His servant for the great commission to preach the Gospel of Jesus Christ to India ,
During 1998 my heart was thirsty to fulfill the great commission of our Lord Jesus Christ in my Life and for His Kingdom . In 1999 while I am reading Holy Bible in Isaiah 60: 1 – Arise shine ; for thy light is come , and the glory of the Lord is risen upon thee . and in John 1 : 4,5. In Him was life ;and the life was the light of men .And the light shineth in darkness ; and the darkness comprehended it not .
Then I went to the rural village called ponneri and I and my friend in Christ william was preaching from January 1999 to October 99 in the area Pulliukullam many family hear the word of God The plan of Salvation with history of world but no one come to our Lord Jesus Christ , during that time it was hard time that one old mother slapped me that I should not preach to her and I should not come to preach and one man from that village Jeva throwed the snake on me and one time showed me big knife that I have to go away from the villages during preaching many spited on me and even they made witchcraft to me that I will get hyplypsi .
But our Lord Jesus Christ helped me and he cared for me in all the way , in the end of the year 1999 one Leprosy man from the village believed Jesus Christ and he want to be baptized when I saw him I was little sad and my heart was filled with compassion to help this man to come in Christ he is a Leprosy and he is fully infected, I even saw some worms in his wounds , on that time is my real calling for the Lord's Ministry because my heart was with great Joy I can touch him and Our Lord Jesus Christ put me burden in my heart and strengthened to baptize him and we named him Moses and we helped him for medical treatment so he can have good health .
From that week we started the Sunday worship in the local village ponneri Church of Christ ,every Sunday we gather in a small rented room I ,my friend William and newly baptized brother Moses for worship many month no one is coming to be a Christ way one day some families told me we want be baptized but you have to send that leprosy man Moses out of the Church because we are high cast and Moses is Low cast and he is un-touchable .
If you send him out we will come to the church and we will baptize. I replied them that still you don't have faith in your heart to be a Christians I explained (Matthew 19: 16to 26 ) Jesus told to a man who asked how I can enter eternal life , Jesus replied Keep the commandments but the man heart was with proud ness of His flesh he replied I have kept from my youth again Jesus answered If thou wilt be perfect ,go and sell that thou hast , and give to the poor , and thou shalt have treasure in heaven :and come and follow me . Few days latter the same family came to Christ and got baptized I praised God . God given them the heart to believe and to be saved and step by step the congregation were growing in numbers and we can able to preach the Gospel near by villages .
God was helping us in evangelism that many people Believed the Gospel of our Lord Jesus Christ and Baptized. Many thanksgiving testimonies are their in my life I hope in future I have to write down for upcoming generation so they will serve the Lord .
God Blessed me and the mission all this years that I can preach the word of God in several villages and city and baptize 1700 peoples from different kind of belief ,culture and language .Praise the Lord. This was a reason we have mission named Arise Shine Church of Christ Mission the Mission working for the great commission of Our Lord Jesus Christ , The mission work is overseen by the elders of the Chennai Church of Christ . authority in Matthew 28 18 to 20 . And Jesus came and spake unto them , saying All power is given unto me in heaven and in earth .Go ye therefore , and teach all nations, baptizing them in the name of the Father , and of the Son , and of the Holy Ghost ; Teaching them to observe all things whatsoever I have commanded you : and lo, I am with you always , even unto the end of the world Amen .
So far we have reached 58 villages in India from Chennai to New delhi with Children Home in chennai "New family" 72 orphan kids and Delhi Life 12 orphan kids and in Save Children Project 1000 Kids are cared in Andrapradesh ,Our mission working for our Lord in tamil nadu, Andra Pradesh , Kerala and New Delhi, bangalure. Helping many poor families, old aged, widows and sick people .
Need your prayers, fellowship and looking forward for the uplifting hands for mission development in future in India and looking forward brothers and sisters all over the world to join and work with us for the Evangelism in India .
In the Following Field:
Gospel Preaching
Congregation Development (Church Building )
Preachers Support
Disaster Relief Program for Poor needy
Home for the orphanages.
Help for the widows and old aged.
India Missionary Institute –Bible School
Save Children Project for 1000 kids
About my forefathers:
In 1920 my grandfather's father was a hindu man who is an Indian traditional and customs and idol worshiper. During that time he came to Christ through the missionaries who came to India from USA , Canada
1950s "Bro. G.D.Yesudin" was the first man Church of Christ in India who started the congregation in chennai and Madrapakkam and many local area and in the rural villages with the support of Bro . J.C. Bailey Canada and Bro J.A.Johnson USA missionary and started Training school and trained many man to be preacher of the Gospel .
Bro.G.D.Yesudin is my Mom's father, Bro.G.D.Yesudin and Bro. J.C.Bailey and Bro. J A Johnson worked together in Tamil nadu and trained many 1000 of preachers and workers and faithful Christians , R.Dhayalan trained by these wonderful Brothers . .
In 1977 Bro. G.D.Yesudin went to our Lord in rest,Sister Tiolet Yesudian wife of Brother G.D.Yesudian still working stedfast , umovable for the Kingdom of God ,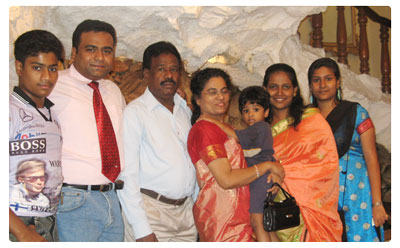 Though my Dad was a Mechanic engineer in kone elevators lift manufacturing Switzerland company in chennai , He started congregation in our house in 1978's Thrivatriure and we shifted our house to Ayanavaram and the congregation was continually conducted by my dad and co workers and in 2002 My dad was retired from his Job and he became full time preacher and Elder of the Church . Still He is serving for the Lord Jesus Christ with 58 preachers, and He is helping many young people in the Church for their growth in Christ and evangelism.

This information comes unto you with Lots of Love and great hope in our Lord Jesus Christ. to know more write us indiacalls@gmail.com .
We look forward for your prayers and fellowship.

Your Brother and co-worker in Christ
R.D.J.Roy Knight
- Missionary

Email: indiacalls@gmail.com
www.indiachurchofchrist.com
www.indiacalls.in





R.Dhayalan and Janet Dhayalan
INDIA CHURCH OF CHRIST
14/ 1 Police Manickam Street ,
Ayanavaram, Chennai 600023.
INDIA