Arise Shine Church of Christ Mission is a work of Churches of Christ where the Christians join together for the out reach program in the mission fields oversee by the elders Chennai Church of Christ ..
ASCOCM fieldwork:
1) Gospel Preaching
2) Congregation Development (Church Building )
3) Preachers Support
4) Disaster Relief Program for Poor needy
5) Home for the orphanages.
6) Help for the widows and old aged.
7) India Missionary Institute –Bible School
8) Save Children Project for 1000 kids

This work is over see by the Elders namely Bro.R.Dayalan , Bro.D Philip , Bro. Samual ,
Johnson N, and B.Roberts .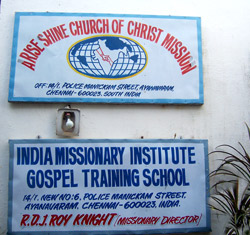 Arise Shine church of Christ Mission Board
Founder and Director : R.D.J. Roy Knight
Secretary : Dayalan
Treasurer : Janet Dayalan
Body Member 1) : Samual
Body Member 2) : Soloman
Body Member 3) : Christopher
Body Member 4) : Edward
Body Member 5 ) : Philip
Arise Shine Church of Christ Mission simply called as ASCOCM and this mission have Book keeping and proper account maintaining and bank account for proper maintaining the funds the contribution and support receive for the work of our Lord Jesus Christ from the well-wishers brothers and sisters in Christ.. ASCOCM will send regular report for entire work done each month and every year we will send to all the donators the copy of auditing report with development report.

Donators are welcome for inspection of the work or project any time .
To send donations and contribution use any one of the methods Cashier Checks ,Demand Draft , Personal Checks .
Mention in the Pay order :
ASCOCM India
Enclose the letter for what project you are supporting..

Please send the envelops with written Air Mail with registered Post to the Address:
ASCOCM
R.D.J. Roy Knight
14/1 Police Manickam Street ,
Ayanavaram , Chennai 600 023, INDIA .
After sending if you like to inform us through email write us indiacalls@gmail.com
For more information Contact Us