The churches of Christ Salute you Romans 16:16

To all the Brothers and Sisters in Christ which are with in me and unto the Churches of Christ through out the world, Grace be to you and peace from God the father ,and from our Lord Jesus Christ ,Who gave himself for our sins ,that he might deliver us from this present evil world ,according to the will of God and our father . Amen .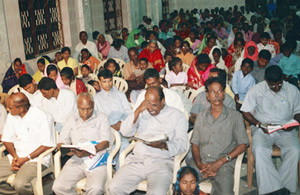 Greetings to you in the mighty name of our Lord Jesus Christ , My heart is filled with great Joy that you are viewing this web page , This website is made for encouraging the brothers and sisters in Christ to reach the un-reached with the plan of salvation .
We are the Members of the Lord's Church in INDIA from 1960's, we are preaching Our Lord and Savior Jesus Christ through our Preaching, establishment. Mission, Helping Hands and Evangelism through out India. Because our Lord Jesus Christ told us in Matthew 28: 18 to 20 .

18 And Jesus came and spake unto them, saying, All power is given unto me in heaven and in earth. 19 Go ye therefore, and teach all nations, baptizing them in the name of the Father, and of the Son, and of the Holy Ghost: 20 Teaching them to observe all things whatsoever I have commanded you: and, lo, I am with you always, even unto the end of the world. Amen.


All the members of the Lord's Church Salute you greetings, you are welcome to be a Part of this Ministry in India. God Bless you
From
The Elders, Minister , Preachers
and members of the Churches of Christ India
indiacalls@gmail.com